So far I've been trying to post some of more tried and true recipes, or even items like the French Silk Pie which was someone else's recipe and basically I documented my experiences with it. (All good, by the way.)
However, that is not how I usually roll in the kitchen. Tonight's dinner was more typical. Leaving the office and walking to my car I thought to myself, "I really need to cook or freeze that ground beef that's in the fridge." This was soon followed by "Ugh. Why do I buy ground beef? I make the same boring stuff with it ... burgers, spaghetti sauce, meatloaf. AGH!" And I trudged along for half a block and then thought, "Wait a minute. Indian cooking uses a lot of spiced ground meats. So does Turkish cooking and ... well, wow, there's just a whole lot of options out there that would be so much more interesting."
By the time I got to my car I was rifling through my pantry in my head, determined not to stop at the grocery store for anything. What would it be good with? Oh, I know, I have bulgar wheat! And I could use that lemon juice, olive oil, cinnamon dressing that I do ... oh wait. No lemon. Ah-hah! But I have limes! And fresh parsley!
And so it went on the drive home. By the time I got into the kitchen I was in full wing-it mode, talking to myself as I poked around in the fridge and cupboards. Oh look! There's that baby spinach salad I got the other day for lunch and never ate. That would go great chopped up with the parsley. Ah, and a quarter of a red onion. What's this? A can of chickpeas? Perfection. Oh, and next to the lime is one sad looking tomato that really needs to be cooked in something. Peachy! Chicken stock in the fridge. Yay!
The end result was pretty much a keema
mixed with a bulgar pilaf.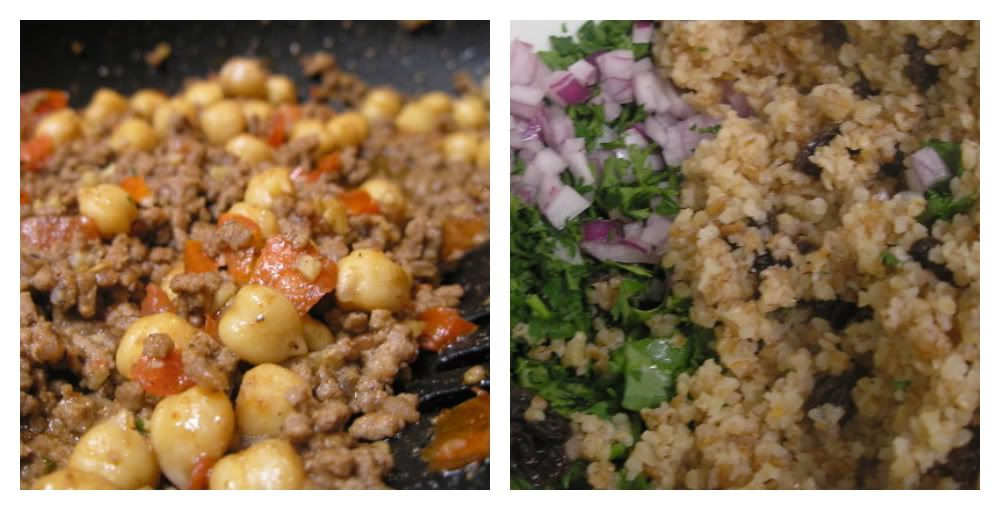 I'm going to try to capture it here for myself (and my husband who kept saying "This is really good!" every third bite), and for anyone who would like an idea of how I usually roll.
The Stuff...
...for the bulgar.
1 Cup bulgar wheat
1 1/2 Cups good quality chicken stock (not broth, stock)
... for the keema.
1/3 lb of good quality ground chuck
1/2 C canned (or cooked) chickpeas (aka garbanzo beans)
1 medium ripe tomato, chopped
2 cloves of garlic, crushed into a paste
1 inch of ginger, crushed into a paste
1/2 tsp ground cayenne pepper (or more or less depending on your heat tolerance)
1/2 tsp ground cumin
1/4 tsp ground coriander
1 tsp garam masala
Salt and black pepper to taste
... to make it a pilaf.
chopped baby spinach
raisins (or currants or dried cranberries...)
chopped red onion
chopped fresh parsley
anything else that you think would be yummy.
Like chopped green olives? or chopped toasted almonds or pistachios? pine nuts? Ooo... next time, yah yah.
... to dress it all up.
1/4 C good quality extra virgin olive oil
juice from 1 lime
salt and pepper
The Way with some Ideas thrown in.
In a medium saucepan heat the stock to a boil and pour in bulgar wheat. Return to a boil, cover with a tight fitting lid and turn heat very low (gas) or off (electric). Leave it alone for 10 - 20 minutes depending on your bulgar. Alternatively, follow the cooking directions on the package if you bought it that way. I find most commercial bulgar cooking directions call for too much liquid and produce a cooked cereal thing not a pilaf thing.
Saute garlic, ginger, ground beef, cayenne, cumin and coriander until beef is browned. Add chickpeas and tomatoes. Cook until tomatoes are softened and all the flavors have had a chance to meld. Maybe 5 minutes. Add garam masala and stir.
Toss any dried fruit you may be using on top of the cooked bulgar and put the lid back on it to let it steam for a couple of minutes. The drier the fruit, the longer the steam. You don't want it mushy though. Fluff the bulgar before adding it to the other ingredients.
In a small bowl, whisk olive oil and lemon juice together until emulsified (this is seconds if you have a good whisk). Add salt and pepper to taste.
In a large bowl, combine all your chopped fresh veggies and herbs with the bulgar mixture and beef mixture. Toss it together. Drizzle with the olive oil dressing and toss again.
Taste it. Adjust taste with salt and pepper. I found mine needed a little something and concluded that it wasn't more salt, but rather a little sweet - which often fixes a salt problem when you find yourself adding more salt and more salt and more salt and not getting what you're after. So I drizzled on a little agave nectar (honey would work) and that did the trick.
I served it up on bright red soup plates and topped it with a green olive. This made enough for my husband and I to both have it for dinner, and I would say there are probably 4 servings left. At least some of it's going to the office with me for tomorrow's lunch.
Also ... this whole thing was concocted, served and eaten within 30 minutes. Definitely a workable work night dinner. Also a testament to how fast we can inhale food around here.