Sometimes a recipe calls for a whole lot of tweaking, tinkering and personalizing to really make it sing. And sometimes you should just keep your stickly little paws off a tried and true tradition.
Key Lime Pie falls squarely into the latter category.
I follow a Cook's Illustrated recipe, but the bottom line is always going to be: eggs, sweetened condensed milk, limes. That's all. Yes, we could go at it for days over whole eggs vs. egg yolks and key limes vs. (gasp!) regular limes ...
...but at the end of the day it's really just three key ingredients to sublime lime.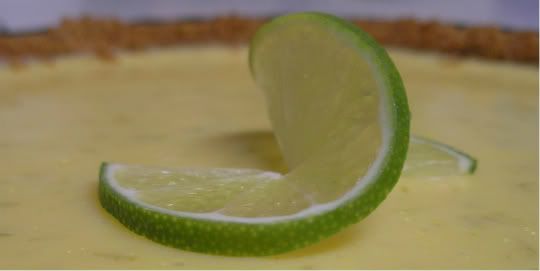 The Stuff
4
teaspoons
grated lime zest
1/2
cup
lime juice
from 3 to 4 limes
1
(14-ounce) can sweetened condensed milk
11
graham crackers
, processed to fine crumbs (1 1/4 cups)
3
tablespoons
granulated sugar
5
tablespoons
unsalted butter
, melted

Whipped Cream Topping
1/4
cup
confectioners' sugar
1/2
lime
, sliced paper thin and dipped in sugar (optional)

The Way
For the Filling: Whisk zest and yolks in medium bowl until tinted light green, about 2 minutes. Beat in milk, then juice; set aside at room temperature to thicken.

For the Crust: Adjust oven rack to center position and heat oven to 325 degrees. Mix crumbs and sugar in medium bowl. Add butter; stir with fork until well blended. Pour mixture into 9-inch pie pan; press crumbs over bottom and up sides of pan to form even crust. Bake until lightly browned and fragrant, about 15 minutes. Transfer pan to wire rack; cool to room temperature, about 20 minutes.


Pour lime filling into crust; bake until center is set, yet wiggly when jiggled, 15 to 17 minutes. Return pie to wire rack; cool to room temperature. Refrigerate until well chilled, at least 3 hours. (Can be covered with lightly oiled or oil-sprayed plastic wrap laid directly on filling and refrigerated up to 1 day.)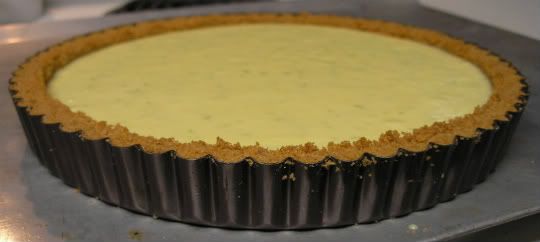 For the Whipped Cream: Up to 2 hours before serving, whip cream in medium bowl to very soft peaks. Adding confectioners' sugar 1 tablespoon at a time, continue whipping to just-stiff peaks. Decoratively pipe whipped cream over filling or spread evenly with rubber spatula. Garnish with optional sugared lime slices and serve.
Tips and Tricks
Did I say this didn't require any tweaking, tinkering or personalizing? Did you actually believe me? Did you think I could actually keep my sticky paws off of a recipe?
Here are my opinions on the matter:
Limes work just as well, if not better than key limes. There. I said it. Get in line. For everyone who says I'm off my rocker, I've got someone willing to declare mine is the best "key" lime pie they've ever eaten. And no, I don't pay them.
Get some super crunchy, super gingery ginger snaps and replace half to a third of the graham crackers with that. Awesome crust.
Whipped cream? I don't bother. I actually think it detracts from the tart simplicity that is the pie.
Did I say pie? I meant tart. I make mine in a tart pan and it comes out superb and gorgeous each and every time.
Want a perfectly pressed tart crust with clean edges? I have just the perfect tool of you. Introducing... the measuring cup. My seven year old can create a masterpiece with this - I know you can.